Nancy Ka Shen Kwan became the first Asian actress to succeed in Western cinema. She was promoted as the "Chinese Bardot", but she was also blessed with the gamine charm of a young Audrey Hepburn. In her success she opened doors for other Asian actors that were to follow. She truly is Hong Kong's gift to Hollywood.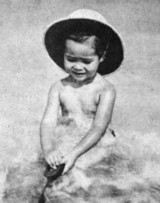 Bathing Beauty at age 2
Kwan Ka Shen (

) was born on 19 May 1939 in Hong Kong, the "Fragrant Harbor" that was a British crown colony on the coast of China. Like the wonderful British/Chinese city of her birth, she is of mixed heritage. Her Chinese father, Kwan Wing Hong, was a successful Cambridge-educated architect; her English/Scottish mother Marquita Scott was a Conover fashion model.

Marquita Scott

They met in England, married and moved to Hong Kong. They had one son Ka Keung before Ka Shen was born. Nancy's parents marriage ended in divorce when she was only two.

Shortly afterwards war broke out in the Pacific, and Japanese troops invaded the city of Hong Kong on Christmas Day 1941. Nancy's father fled the city on foot, leaving behind his worldly possesions but bringing along a precious cargo: his house servants carried Ka Shen and Ka Keung hidden in a wicker basket. Together they slipped past the Japanese army and hid out the years in western China until the war was over, when they returned to Hong Kong.

Upon returning to Hong Kong, Nancy lived in a grand modern house on a hill in Kowloon, that was designed by her father and had a full staff of servants. Nancy was enrolled in the Maryknoll Convent School, a traditional Catholic missionary school founded by the Maryknoll Sisters in the 1920's. She quickly became the teachers' pet. Yet her childhood was not traditional; she was a bit of a tomboy, interested in sports, once breaking her arm while climbing a tree. Once she joined a protest against a British club that excluded Chinese members, until her father asked her to drop out, lest the protest alienate his important business clients. As a child she learned how to practice Tai Chi, a graceful form of martial arts exercise common in China. She learned horseback riding and had her own pony. Her family would take holidays in their summer homes in Borneo, Macau, and Japan. Nancy's father had remarried, and soon she had five new little brothers and sisters to help look after and to play with.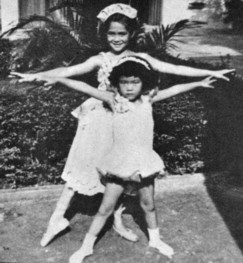 giving dance lesson to her little sister

Nancy had shown no early interest in acting. Instead, she aspired to the dance. At age twelve she went abroad to the Kingsmoor School in northern peaks district village of Glossop, England. The Kingsmoor School provided an unusual, liberal education to its students. It was also close to a ballet school in Manchester, where twice a week Nancy studied all forms of dance. She performed a solo ballet in Kingsmoor's graduation ceremony. Afterwards she was accepted into the Royal Ballet in London, where she studied and performed for four years. She danced in Swan Lake and Sleeping Beauty at Covent Garden, and earned her teaching certificate in ballet.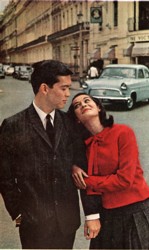 with brother Ka Keung

Her brother Ka Keung was studying architecture in London and during her holidays they traveled together by motorbike throughout Europe.

It was on a summer holiday in Hong Kong that a chance event changed her life. Ray Stark, a Hollywood producer, was in town to do location scouting for the film adaption of The World of Suzie Wong, a colorful interracial romance set in Hong Kong, which was based on a bestselling novel by Richard Mason and was made into a popular Broadway play. Mr. Stark was looking in Hong Kong for genuine Chinese actresses to star in the film, and received over 500 applicants. Nancy's architect father had built the studio where Mr. Stark was holding the auditions. Stark spotted Nancy, and despite the fact that she had no acting experience, summoned her for a screen test. Nancy was nervous and she thought her screen test was a failure. Nonetheless Ray Stark saw the spark of talent in her test and was completely taken by her Eurasian beauty. After getting her father's permission, Stark signed the twenty year old Nancy Kwan to a contract, and sent her to Hollywood for extensive coaching and more screen tests.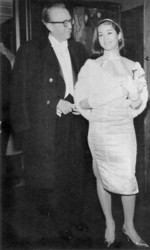 with Ray Stark

For the male lead in the film Ray Stark had signed legendary leading man William Holden, the star of dozens of popular films. A dispute ensued, as to whether the Suzie role should go to Nancy or to France Nuyen, star of the stage production of Suzie Wong and recognized for her supporting role in the musical South Pacific. Nancy was crushed to learn that Paramount awarded the role to the better known France, despite Holden's expressed preference that the part go to Nancy. France went to Hong Kong to begin location shooting, and Nancy was sent to New York to understudy the role for Broadway.

Nancy was in the road touring company of the show in Toronto, when she got a phone call from producer Stark in London. Would she come for yet one more screen test? It turned out that France had suffered some personal difficulties that rendered her unable to continue with the filming. Nancy rushed to the studio in London. Her acting lessons had paid off: at last the part was hers! Ironically, the director wanted to makeover the Eurasian actress to look "more Chinese". As an actress Nancy was very eager to please; upon seeing the dailies she would want to shoot scenes over and over to do them better and better. Only one scene in the film gave her difficulty: one that required her to appear wearing just her bra and slip. She locked herself in her dressing room, crying bitterly because she thought the scene was too immodest. Only when the producer told her that portraying Suzie in lingerie as an actress would not reflect negatively on her as a person was he able to coax her out to complete the scene. Once the interior scenes were finished in London, she went back to Hong Kong to film the exterior shots. Despite her onscreen chemistry with Bill Holden, they were not romantically involved; she actually spent her off time playing with Holden's grown children in Hong Kong. At the conclusion of filming the company threw an elaborate birthday party for her.

Ray Stark gave her a big publicity push. Glamorous photos of Nancy Kwan appeared in major magazines of the day such as Time, Look, Esquire, Cosmopolitan, Modern Screen, and the cover of Life. He threw a big party for her attended by many Hollywood stars. He even arranged for her to meet the Queen of England.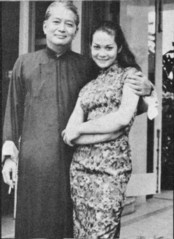 with her father Wing Hong

The film premiered at Radio City Music Hall on Thanksgiving weekend in 1960, and was a huge commercial success. Critics uniformly praised Nancy Kwan's performance in the title role. Even her traditional father approved. The film went into successful distribution in Europe, South America, and Asia, and suddenly to her surprise the young actress found herself an international star. When she went out shopping in Hong Kong, she found people acted strangely and a big crowd of people would form. She realized that they were following her. In the U.S., she could walk into a Chinese restaurant and they would give her a free banquet at the center table.

Given her great appeal and her extensive dance experience, it was only natural that she would win a leading role in her next film: the adaptation of Rodgers and Hammersteins Broadway hit musical Flower Drum Song, a story of romance and clashing cultures set in San Francisco's Chinatown. At a Hollywood party, she noticed producer Ross Hunter staring at her. When she asked him why, he declared that she would be just perfect as Linda Low, the sassy American-born Chinese nightclub singer and dancer.

The lavishly shot film became another big box office hit, and garnered five Academy award nominations. Also co-starring James Shigeta and Miyoshi Umeki, it was the first major Western film with an all-Asian cast, and became an inspiration for a generation of aspiring Asian actors. Indeed, the next major film with an all-Asian cast wasThe Last Emperor, which would not come out until more than 25 years later. Nancy Kwan was able to put her ballet training to good use in the many dance numbers she had in the film. Her character Linda Low sang "I Enjoy Being a Girl", the catchiest song of the musical, while twirling in front of a three way mirror. It was a tour-de-force for the young actress promoted as "that bewitching Suzie Wong girl".

Following her first two big hits were a whirlwind of films, always in a starring role, made in Hollywood, Europe, and the Far East. Many of these were made under her contract to Ray Stark. Perhaps recognizing the limited number of parts that cinema had to offer an Asian actor, she made a deliberate attempt to take on diverse non-Asian and non-traditional roles. She became an innocent Italian circus acrobat in The Main Attraction opposite singer Pat Boone. She played the leading role of an uninhibited Tahitian in an all-boys public school in Tamahine; she played the leading role of an straightlaced British secretary in The Wild Affair.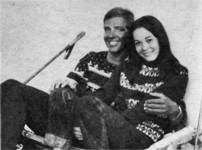 with Peter Pock
The frenetic pace of those early years were a bit taxing on her. Nancy Kwan actually threatened to quit the motion picture business all together. Fortunately, she did not, but she did take time out to pursue her personal life. Nancy took an avid interest in skiing. While filming scenes for the The Main Attraction in the Tyrolean Alps, she fell for Peter Pock, a handsome Austrian ski instructor who remarkably had not seen any of her films. The two were married in London, and had a wedding ceremony in Austria and a wedding banquet in Hong Kong. Together they opened a ski resort in the remote alpine village where they met.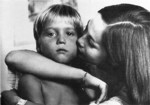 with her son Bernhard

Within a year they had a beautiful baby boy, Bernhard, who had the blonde hair of his father and the delicate features of his mother.

Nancy returned to Hollywood, now juggling her family and her career. She portrayed a soft-spoken Chinese-American scientist opposite Glenn Ford in the gripping aviation drama Fate is the Hunter, an unusual role that years ahead of its time for an Asian actress. Nancy also played non-Asian roles as the love interest for Robert Goulet in the romantic comedy Honeymoon Hotel, and Tony Curtis's scheming girlfriend in the comedy Arrivederci, Baby. She traveled to Kauai to star in the Walt Disney film Lt. Robin Crusoe, USN opposite Dick Van Dyke. The Disney comedy went on to become one of the top five box office hits of that year.

Over the next few years Nancy Kwan actively pursued her career in Hollywood. She starred opposite Dean Martin in the James Bond sendup The Wrecking Crew, opposite Robert Stack in the Far East actioner The Corrupt Ones, and opposite Jack Lord in the pilot movie for the popular television series Hawaii Five-O. She took the unusual role of playing a native American woman in the western The McMasters. However the strain of pursuing her career took its toll on her marriage. She and her husband divorced, and she took custody of her son. She made several more films, but then abandoned Hollywood completely in 1970: her father had taken critically ill, and she returned to Hong Kong to be at his bedside.

Nancy Kwan intended to stay in Hong Kong for a year, but ended up staying a decade.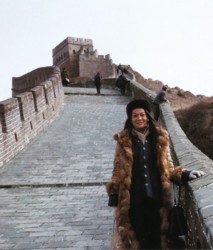 Nancy in China

She traveled to the People's Republic of China, which actually got her blacklisted from films for several years. She decided to try working from the other side of the camara, and established Nancy Kwan Films in Hong Kong. The successful firm was involved in all aspects of film and television production, specializing in distribution for Southeast Asian markets. She worked in television, starring in popular television series such as Kung Fu and Fantasy Island. She returned to the big screen, starring in several martial arts and action films intended for Far East distribution, including co-stars such as Donald Pleasence and Leslie Neilson. She also starred in the romantic drama Spring Comes Not Again, her first Chinese-language film, for which she received rave reviews. While working on a film in the Phillipines, she also had the good fortune to meet her husband-to-be: director/producer Norbert Meisel. At the end of the seventies Nancy Kwan returned to Los Angeles with her family to resume her career there.

Throughout the eighties and nineties Nancy Kwan continued to star in films, mostly independent productions: for example Walking the Edge with Robert Forster, Keys to Freedom with Omar Sharif, and Night Children with David Carridine. She began to do more work for the small screen, guest starring in various TV series and being featured in TV films such as Noble House with Pierce Brosnan, and Miracle Landing. She starred in the hit film Dragon: the Bruce Lee Story, the life story of the martial arts legend, whom she knew personally from Hong Kong and the stunt fight training he gave her on the film The Wrecking Crew.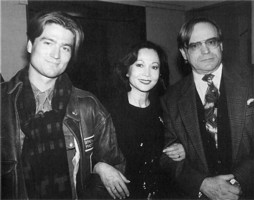 with son Bernie and husband Norbert

She began to diversify her resume. She produced the instructional video T'ai Chi Chu'an: Touching the Clouds, teaching the most graceful of the martial arts, along side her son Bernie. She played leading roles in stage productions such as A.R. Gurney's Love Letters, Edward Albee's blistering drama Who's Afraid of Virginia Woolf, and the award winning Arthur and Leila, penned by Cherilyn Lee, who was a child star in Flower Drum Song. She lent her voice to narrations of numerous audiobooks, including Katherine, the heartwarming story of a young woman's friendship with her American teacher in Communist China, When Heaven and Earth Changed Places, a true chronicle of Vietnam, and an anthology of poems by Emily Dickinson. When not busy acting she did volunteer work for homeless children, and became a spokesperson for the Asian-American Voters Coalition. Her work with the Coalition earned her a meeting with the President at the White House.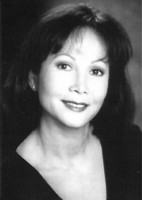 her star shines brightly
Although she doesn't keep quite the same busy schedule she did in the sixties, Nancy Kwan now works selectively when interesting projects come up. These include the independent film Mr. P's Dancing Sushi Bar and a guest starring role last year on the TV series E.R. Over the last few years she has received recognition for her earlier work. She accepted the Golden Ring Award in San Francisco for her part in Flower Drum Song. She emcee'd the Miss Chinatown pageant in San Francisco as well. Last year Nancy Kwan was honored as a Historymaker for Excellence in the Performing Arts by the Chinese American Museum in Los Angeles, and she traveled back to her native Hong Kong to a charity ball in honor of her famous role as Suzie Wong.
From her earliest roles to today, Nancy Kwan will always be Hong Kong's best gift to Hollywood. Her star shines brightly.