| | |
| --- | --- |
| Take Tea & See | &copy TIME magazine, 11 April 1960 |
Wonton-sized Nancy Ka Shen Kwan (5 ft. 2 in., 104 lbs.) is the most delicate Oriental import since Tetley's tender little tea leaves. Last week 20-year-old Nancy was before the cameras in London filming The World of Suzie Wong, and from the first frame the part fitted like her own freckles. Furthermore, the new "yum-yum girl" has saved the movie.
Two months ago, Star France Nuyen, who played Suzie on Broadway (TIME, Oct. 27, 1958), broke out in a rash of symptoms (ranging from a chronic sore throat to a heart bleeding for Marlon Brando and a pain in the neck for the producer) and was dropped from the cast. At that point, Producer Ray Stark called Nancy in Toronto, where she was understudying a road-show Suzie, ordered her onto the first plane for London. "Tell the stage manager your father's had a heart attack," said Stark. "You're an actress. Go in there and cry."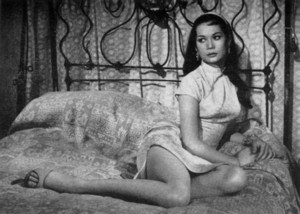 NANCY KWAN IN "SUZIE WONG"
Occidental under the cheong-sam.
With a few months of acting lessons behind her, Nancy wept well enough. Says Director Richard Quine: "She leaps to the bait like a hungry trout. She never has to be told twice, and she's resilient as a Yo-Yo." Daughter of a Chinese architect and an English-born Conover-model mother, Nancy knows Suzie Wong's world as well as anyone in the cast. When she was not absorbing an education in Hong Kong's Roman Catholic Maryknoll convent school, she was playing in the city where Suzie herself grew up.
Lest anyone have any doubts that her East-West blend can stand comparison with Hollywood's well-known brands, company flacks have already hastened to annouce that under her high-buttoned cheong-sam (the Chinese sheath with the slit skirt), she is the equal of any Occidental. But Nancy promptly corrected the claim that she has "the ample bosom of the Nordics." Said she demurely: "It is big for the Chinese, enough for the English, maybe small for Italians."